ABOUT | MARINA WIESE | PURE LINEN FOUNDER & DIRECTOR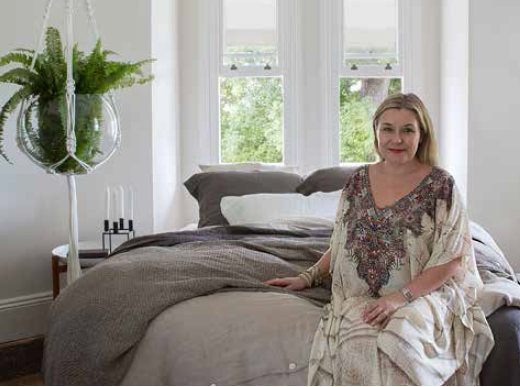 St Petersburg was home to Russian-born Marina Wiese for much of her life. It was here that linen
was a practical part of her everyday. So, PURE LINEN has always been her destiny, but it didn't
become a reality until she moved to Australia in 2001.
"In Russia, linen is an everyday textile. I was brought up with linens on the bed, on the table, in
the bathroom and in the wardrobe. So linen is close to my heart. I've been pretty spoilt," laughs
Marina. "When I was leaving Russia, my mother gave me a handmade linen tablecloth and
wedding runner by my great-grandmother. When I started to do this business, I framed it and
hung it in my office. It will belong to my daughter Katya one day."
Those pieces stand as testament to her background, her present and her future; symbols and
reminders of the longevity of flax linen, the importance to respect quality and the beauty of
traditional craftsmanship in a contemporary context. They are also a reminder to always ensure
these qualities are hallmarks of the PURE LINEN style so that pieces can remain in families as long
as the tablecloth and runner have remained in hers.
While Marina studied and worked in finance in Russia, it is her 11-year arts study that informs her
business. She employs her classical Russian training in painting and drawing to choose styles,
colours and styling, always aiming to deliver the best contemporary colour combinations across
the diverse styles – from heritage to provincial and modern – in her collections.
"I'm not just selling a product. I am producing something I love. My experience and what I love
has become one picture. And I believe in my product; it talks for itself," she says. "I still get really
excited when people buy my product; it means they understand the beauty of this natural fibre
and appreciate the resulting folds, touch and patterns as I do."
Marina Wiese was born into a culture where linens, wool and Uzbeki
silks were regarded as daily textiles for body, bath, bed and table.

ABOUT | PURE LINEN & OUR INSPIRATION

WHO WE ARE We are a globally sourced, 40% locally made linen wholesaler to the design,
retail and hospitality industries of Australia and New Zealand. Founder/director Marina Wiese
has researched and sourced the best linens from throughout the world since 2006. It is sold as
cut fabric lengths and rolls, plus custom made for bed, table, kitchen and body, so traditional
and custom sizes can be ordered. The sewing teams are long-time professionals who have
honed their craft over many years and understand the beauty and nuances of natural linens,
so transform our fabrics into products with their experience, understanding and passion. PURE
LINEN is also now home to the 2015 Gala Gift & Life Instyle Awards Eco Product of the Year (the
PLANET EARTH COLLECTION of Stone Washed Belgium Linen for the bed) and Marina's daughter
Katya (pictured above with Marina) now works with her in the PURE LINEN business.
Integrity, honesty, passion and a light touch that accentuates
the beauty of natural linen are hallmarks of PURE LINEN products
WHO USES OUR LINENS
PURE LINEN products for bed, body, bath and table are found in some of the most coveted
stores throughout Australia and New Zealand. They were Belle magazine's
napery of choice for their 40th birthday celebrations and you may have had one of their
napkins placed in your lap at one of Sydney and Melbourne's top food and wine destinations.
Interior designers often collaborate with Marina to produce bespoke linen solutions for clients,
which range from homeowners to retail stores and hospitality venues. And PURE LINEN products
are often sought-after by some of Australia's top stylists for magazine features and events. With
a diverse range of collections, plus endless bespoke possibilities, PURE LINEN has a fabric, design
or ready-made solution for every occasion.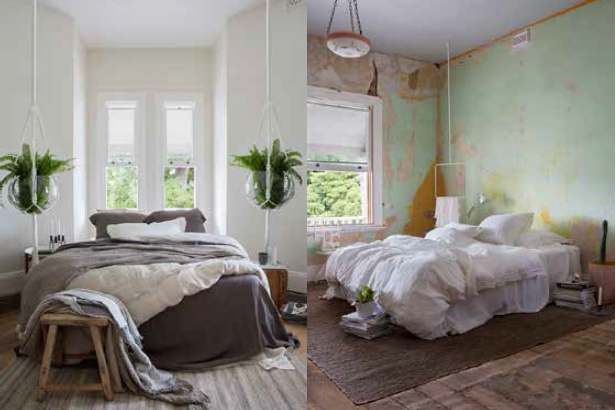 Growing up with linen, travelling extensively and being immersed in
a world of art and design have given Marina her love of this fibre.

WHAT INSPIRES US
While Marina's background and art study inform the PURE LINEN business, it
is also her extensive travel through France, Italy, Belgium, Spain, Switzerland, Monaco, Egypt,
Lithuanian, Latvia, Estonia, Morocco, South-East Asia, the Seychelles, the US, the UK and more
that have given her inspiration for her collections. She can't name one particular style that
resonates with her most. Instead, she can appreciate the beauty of anything from 18th-century
French designs to the contemporary.

"I have a very open mind when it comes to design," says Marina. "For me, I can't say I love
one design more than another. However, I can say, at PURE LINEN we focus on timeless styles
that will last the test of time and will work in traditional to contemporary homes and settings.
This approach is really about respecting the natural beauty of the linen and allowing the fibres,
touch, folds and inherent beauty be the inspiration for our products."
With formal to casual solutions for bed, bath and table, the PURE LINEN philosophy is about
linens for all ocassions. So, it's possible that you could say 'lifestyle' is the biggest influence on
Marina's designs. The lifestyle of her childhood, to the lifestyles she has experienced around the
world and the lifestyle she has created in Australia through launching PURE LINEN from a need
for a large-sized linen tablecloth. It's a lifestyle that appreciates quality, longevity, beauty and
the luxury of natural fibres for not only those special times, but also for the everyday.
"If I were to name just two countries that have inspired me most, I would have to say Italy and
France. I love everything about Italy – the nature, history, food, culture and way of life – and I
love the eclectic look of classic French style. Our linens have that eclectic nature in that they
can be whatever you want them to be, allowing you to express your individual style."