About PURE LINEN.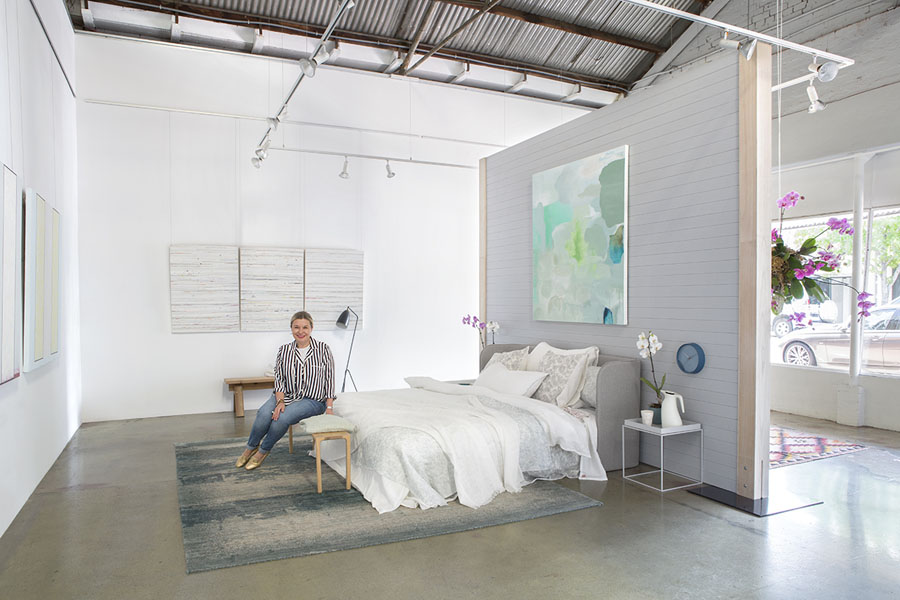 OUR FOUNDER
Marina Wiese says "I'm not just selling a product. I am producing something I love. My experience and what I love has become one picture. And I believe in my product; it talks for itself," she says. "I still get really excited when people buy my product; it means they understand the beauty of this natural fibre and appreciate the resulting folds, touch and patterns as I do."
PURE LINEN & OUR INSPIRATION
WHO WE ARE We are a globally sourced, 40% locally made linen wholesaler to the design, retail and hospitality industries of Australia and New Zealand. Founder/director Marina Wiese has researched and sourced the best linens from throughout the world since 2006. It is sold as cut fabric lengths and rolls, plus custom made for bed, table, kitchen and body, so traditional and custom sizes can be ordered. The sewing teams are long-time professionals who have honed their craft over many years and understand the beauty and nuances of natural linens, so transform our fabrics into products with their experience, understanding and passion. PURE LINEN is also now home to the 2015 Gala Gift & Life Instyle Awards Eco Product of the Year (the PLANET EARTH COLLECTION of Stone Washed Belgium Linen for the bed).
Integrity, honesty, passion and a light touch that accentuates the beauty of natural linen are hallmarks of PURE LINEN products
OUR PRODUCTS
Our products include:
Upholstery fabrics: readymade and custom service for soft furnishings, including cushions, curtains, lampshades and more.
Table linen: readymade and custom service for domestic and hospitality napery. PURE LINEN also carries a huge range of matching and contrasting tablecloths, napkins, runners and tea towels to suit any home and style. Plus, PURE LINEN supplies commercial linen napery to linen hire companies, event stylists, restaurants, eco-resorts, bistros, cafes and bars. PURE LINEN also offers custom-made tablecloths and napkins to suit your needs.


Bed linen: PURE LINEN has a wide range of made-to-order bed linen. Choose from a our award-winning Planet Earth collection of stonewashed Belgian linen, to the rustic raw-linen Casablanca bedcover and beautiful colours in our Arctic range of 100% linen bedding. Products include duvet covers, top sheets, fitted sheets and a range of pillowcases. PURE LINEN also works with hospitality clients for special orders.
Home decor: PURE LINEN offers a range of ready-made cushion covers, throws and curtains. We also offer a custom service for those who want specific sizes, prints or details (embroidery, hemstitch, monograms, etc).
Extras: Also ask about our screen and hand-printing, embroidery and fashion (women's and men's clothing, sleepwear and children's clothing).
PURE LINEN is an Australian business. Wholly owned and operated by Australians. The products are either manufactured in Europe by manufacturers who maintain high ethical standards under our PURE LINEN label to our specifications and designs or increasingly, made in Australia by our own sewing teams. To see and feel our products, and for ease of ordering, you'll find us at the Life InStyle trade fair or you can visit our showroom (by appointment).
Best Regards
the PURE LINEN team
Why choose PURE LINEN?
• Exclusive - PURE LINEN has exclusive rights to Australia and New Zealand from our European manufacturers – all products are made to our design. We can offer you exclusive designs as well, if your order is large enough.
• Eco Friendly - Did you know that linen uses five to twenty times less water and energy than cotton.
• Award Winning - Our suppliers are proud of their commitment to theenvironment – wining awards for their "Ecologically pure and safe production"
• Sell, buy, use and wear our linen with great pride in the knowledge that you are doing "your bit" for the environment!
Can you imagine the ultimate luxury of sleeping between pure linen sheets; serving dinner on a pure linen table cloth?
Spoil yourself and your friends and loved ones with classical, classy, environmentally friendly, pure linen.